Links
See Wilt in action on the court (note: need RealPlayer plug-in).
Wilt speaks about Hall of Fame inductees on NBA.com
Only Wilt changed Wilt - from the San Francisco Examiner.

Read a good article on Wilt from the May 1999 issue of Hoop.
Read the Lawrence Journal's tribute to Wilt.
Rivalry with Russell transformed NBA - from the Chicago Tribune
Kansas savors a memory - Wilt meets Satchmo - from the Chicago Tribune
Wilt was a legend, and he knew it - from MSNBC
Try out the Wilt cryptograph.
Kevin Garnett on Wilt.
Wilt reflects on the night he scored 100 points.
Read Wilt's entry into the Kansas Sports Hall of Fame.
Read about Wilt's 1971-72 Los Angelas Lakers championship team.
Read about Wilt's 1966-67 Philadelphia 76ers championship team.
NBA.com's very good interview with Wilt.
NBA.com's commentary on Wilt for their NBA at 50 celebration.
NBA.com's report of Wilt's record setting 100 point game.
NBA.com's report of Wilt's record setting 55 rebound game.
Read Sarah's 10th grade history report on Wilt.

TRIBUTES:
ESPN
MSNBC
Wilt's peers
NBA.com
CNN-SI
Philadelphia Inquirer
The University Daily Kansan
Philadelphia Daily News
Frank Deford interview
The Pride of Philadelphia
This time, everybody loved Goliath - CBS Sportsline
Philly.com
The Digital Jayhawk
Colleagues Remember Invincible Wilt - CBS Sportsline
Wilt Chamerblain: An appreciation - by Alex Sachare
Quotes from around the sportsworld on Wilt's passing - NBA.com
Frank Selvy remembers Wilt
T.J. Pugh recalls meeting Wilt
Wilt's memorial service


Wilt's jersey retirement ceremony at Kansas University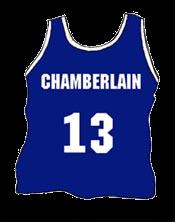 Waiting on Wilt - award-winning story from the University Daily Kansan
With his return to Kansas, Charmberlain's legend came full circle - from CBS Sportsline.
Read about Wilt having his college jersey retired from the Topeka Capital-Journal.
Read another story about Wilt's return to Lawrence, Ks fromt he Capital-Journal.