No. 13 won't be worn again by a Globetrotter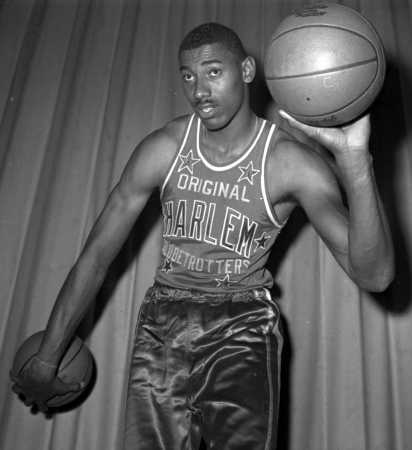 Associated Press

PHILADELPHIA -- Wilt Chamberlain can still bring the gymnasium crowd to its feet at Overbrook High School, where he started a career that rewrote basketball record books.

Students crammed into bleachers jumped up and cheered Thursday as Chamberlain, who died Oct. 12 at his California home, became the first player in the 74-year history of the Harlem Globetrotters to have his jersey retired.

West Philadelphia youths piled out of the bleachers and crowded around the present and former Globetrotters at the ceremony to get their school notebooks autographed. Former high school teammate Vince Miller said Chamberlain would have enjoyed it.

"I don't know which one he loved more, Overbrook High School or the Harlem Globetrotters. Those were the two first loves of his life, the Globies and Overbrook," Miller said.

"He put us on the map," freshman Andre Taylor, 14, said of Chamberlain, who often wore the Overbrook jacket after he became famous.

Present-day Globetrotters Geese Ausbie, "Sweet" Lou Dunbar and Orlando Antigua arrived at the school, unfolding themselves from a minivan, to take part in the ceremony, sign some autographs and show off some trademark ballhandling magic.

"I can do that," 15-year-old freshman Maurice Todd said as they spun basketballs on their fingertips. The team plays Saturday at the Spectrum and gave 50 free tickets to Overbrook students.

At center court, the players unveiled a showcase displaying two of Chamberlain's bright blue No. 13 jerseys with red and white striped shorts. It will stay at Overbrook High as a tribute, former teammate Tex Harrison said, "to one of the greatest Harlem Globetrotters of all time."

Harrison remembered Chamberlain's days with the Globetrotters well, saying he always had a hand in endless games of bid whist, similar to bridge, played in the team bus and locker room. "When we weren't talking about basketball we were playing cards," he said.

Miller was a 6-foot-5 forward on the Overbrook High teams the 7-foot-1 Chamberlain led from 1952 through 1955.

"We won three public school championships and two all-city championships and we lost a total of three games in three years," he said. "Two or three."

Chamberlain left for Kansas and the Globetrotters before returning to play for the Philadelphia Warriors and later the Philadelphia 76ers. Fame came quickly.

Miller pulled from his pocket a 41-year-old news release telling how Chamberlain signed a $65,000 contract with the Globetrotters. "Guys in the NBA weren't making more than $12,000 or $15,000 a year then, and that was a lot," Miller said.

Chamberlain played 14 NBA seasons for the Philadelphia Warriors, Philadelphia 76ers and Los Angeles Lakers, scoring 31,419 points. And the Overbrook students were well aware of his records that still stand, for highest season scoring average (50 points in 1962) and most points scored in a game (100 against the New York Knicks on March 2, 1962).

"Nobody's going to break 100 points," said Todd, who plans to try out for Overbrook High Panthers as a guard next year.

"Until I get there," he quickly added. "Records are made to be broken, right?"

"He's tough. A lot of people talk about Wilt Chamberlain on the girls' team. He's like our role model, too," said Patricia Whittingham, a 16-year-old junior.

Overbrook's basketball coach, Ron Ford, who went to Northeastern High and played against Chamberlain in summer leagues in the 1960s, said he talks about him in weekly study halls for his varsity players.

"Once in a while we talk about the history of basketball. They are familiar with Wilt," he said. "We lost a good person."